Thanks again Ray! I appreciate the link you provided. Unfortunately, the information on the page didn't help me much.
It seems to be mainly for Saffire interfaces, not Scarlett. The mixer graphic shown in the screen shot is nothing like what I see in Focusrite Control.
However, by connecting the Scarlett 18i8 to my Windows 10 computer, opening Focusrite Control, and messing around, I was able to figure out what to do to obtain the result I was looking for. It turned out to be a simple setting: I went into the "File" menu, chose "Presets," and selected "8 Channel Analogue."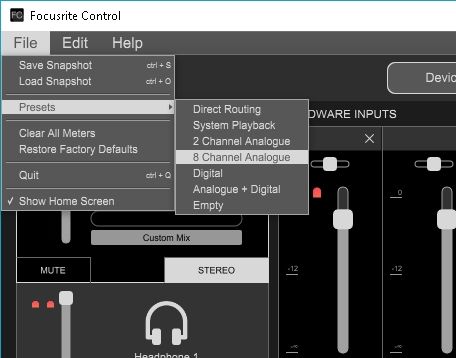 I can now connect the 18i8 to my Android device (a Nexus 6P), start Audio Evolution, and hear tracks I've already recorded, while directly monitoring new tracks as I record them.
There's also a "2 Channel Analogue" preset. It's not clear to me why I would ever want to use this preset rather than "8 Channel Analogue." It appears to be the same as the latter except that only the first two inputs work. I also don't understand why direct monitoring isn't enabled on the 18i8 by default. Nonetheless, I'm happy to have found a solution!
[Note: For the benefit of anyone who might find this post in the future via a search, the version of Focusrite Control that I'm using is 2.0.0.]